1952 Roosevelt Dime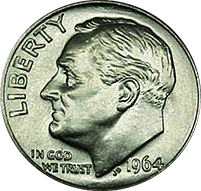 Type: Roosevelt Dime
Year: 1952
Mint Mark: No mint mark
Face Value: 0.10 USD
Total Produced: 929,360,000 [?]
Silver Content: 90%
Silver Weight: .0723 oz.
Silver Melt: $1.73
Value: As a rough estimate of this coins value you can assume this coin in average condition will be valued at somewhere around $3.00, while one in certified mint state (MS+) condition could bring as much as $10 at auction. This price does not reference any standard coin grading scale. So when we say average, we mean in a similar condition to other coins issued in 1952, and mint state meaning it is certified MS+ by one of the top coin grading companies.

Additional Info: 929 million 1952 Franklin dimes issued here at the (p) Philadelphia mint, all coins are 90% silver. Of those 929 million just 3.9 million are proof coins. There is also a double die error this year, but the error is only on the Denver minted coins.
Numismatic vs Intrinsic Value: This coin in poor condition is still worth $1.27 more than the intrinsic value from silver content of $1.73, this coin is thus more valuable to a collector than to a silver bug. Coins worth more to a collectors may be a better long term investment. If the metal prices drop you will still have a coin that a numismatic would want to buy.